The "CRM – Marketing" module
offers businesses a tool to bring new customers and sales, as well as a framework in which customer relationships can be transformed into long-term partnerships.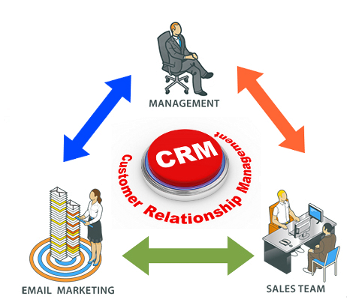 Facilitates communication with customers, collaboration and communication between company employees.
Centralizes all the information about existing and potential customers, in order to automate, plan, and oversee communication with them from the prospecting stage until completion of sale.
You can see all the discussions and opportunities related to a customer, and all the information from the ERP and transaction history: orders, invoices, prices etc.
Manages email marketing and telemarketing campaigns, send emails and personalized offers directly from the CRM, have summary records of calls and visits from customers and establish who, when, and what to do next to achieve the opportunities.
Everything happens in the cloud, so you do not need to go to the office to find out what you negotiated with a partner.
You can access information from anywhere if you have internet access, on any computer or tablet and know everything in 30 seconds!
What is the CRM good for?
The CRM on expertAccounts.com allows you to delegate to your staff the communication with customers. It also facilitates communication between employees. For example, when an employee finishes a working stage that he knows about, he can notify another colleague to continue with the next stage. The CRM provides online collaborative work between the employees at the headquarters and those working on the field and branches.
Anytime a colleague goes (on vacation), another one can continue his work, in order to replace him successfully.
Employee's productivity increases, because everything is centralized, tasks are automatized and response time is significantly reduced.
A very important fact is that you can monitor and supervise the marketing and business activity: you know who, with who, what and when talks, what quotations do the customers receive and how they react to them. Also, for each opportunity, you will know who will take the next step and when. Everything is just one click away!
Scenario: How to find new customers?
From "fishing rod" to "oceanic fishing"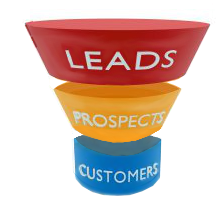 Suppose that you have 1.000 business contacts, from various sources: your current customers, business cards, catalogs and online business directories etc. You enter them in the CRM with company name, contact person, phone and email, or import them if you have them in a file. Then, you compose one or more e-mails or newsletters with links to your website, and send them to all your contacts, grouped by campaigns. Also, all the e-mails contain an unsubscribe link.
It is recommended that the first e-mail to be a polite request for commercial communication. When a recipient clicks on a link in the e-mail, the CRM will automatically create a task to your sales representative, to call the person who clicked, because it is interested in your product or service. This way, from 1000 contacts, 150 will probably click, and will become leads which you will call. Probably, only 30 of these will become customers that will buy from you.
In this example, we talked about only 1000 contacts, but using the expertAccounts CRM, only one marketing staff can manage 10.000 contacts!
This scenario probably is not suitable for every business, but the expertAccounts.com CRM can be used in many other ways. The major advantage is that you can delegate marketing work to employees, in a system that helps and organizes them, and facilitates you to monitor what is going on!
Customized for every business
It can be customized for every business: you can define custom fields with information about every contact, depending on your business needs. Moreover, you can define selling points that your operators will use in the selling process, through phone, email or in meetings with customers.
You can define e-mail templates and "newsletters" customized with parameters, and you can track open and click rate. Moreover, you can set that when a potential customer clicks on your e-mail, the system will automatically create an opportunity for the potential customer, and a task to be executed by a colleague.
We can see the history of communication with a client and remember what we discussed before, we can register the opportunities with deadline and all the necessary details.
ExpertAccounts.com can be integrated with an API, with any site or platform, to automatically add to the CRM the new contacts or updating the information about the existing ones.
How to assign tasks in expertAccounts.com CRM?
In the CRM we can associate tasks to our colleagues that can be found in their virtual agenda.
The team coordinator doesn't have to call his colleagues anymore, he can assign tasks directly from the CRM, and see if the tasks have been achieved or what level has been reached.
The task association can be configured by several criteria and can be adapted to any type of business.
Virtual Agenda – you have the daily tasks and you can find the feedback in a few seconds.
The CRM Marketing add-on module also integrates the Marketing page, which includes the work agenda ("My Agenda"), which lets you follow all the daily tasks. You don't have to memorize who you have to call, the agenda will guide you to the "hot" tasks and not only.
If you receive a call, you don't have to leave the page, you go to the "Incoming feedback", write some figures of the number calling you, and you will know in an instant who is calling, what you have to say, having access to Chat History.
The Marketing CRM dashboard offers instant visibility of everything that happens in the selling process, telemarketing, newsletters, e-mail marketing and opportunities. The CRM system offers total transparency to the customer relationship, and guides you to act in time to build a long-term relationship.