The ExpertAcccounts Manufacturing ERP system implements ISO standards for production tracking and traceability, with execution planning by production phases.
The ERP system calculates the production cost for each batch produced, and integrates the MRP and MES modules:

MRP (Materials Requirement Planning) - plans the execution in the Gantt chart, by orders and manufacturing phases with semi-finished products, to ensure just-in-time material replenishment.
MES (Manufacturing Execution System) - records the execution of manufacturing phases and operations performed by each worker within each phase, in real time, with mobile devices.

The production planning and execution system is suitable for various manufacturing industries, food, chemical, electronic, fashion, construction materials, etc. and provides all the necessary facilities for production management, planning and tracking, for repetitive series production as well as make-to-order production.
The system implementation is customized and offers specific advanced functions for different industries. E.g. for textiles and shoes it manages the assortment of sizes, for the food industry it keeps track of batches and expiration dates.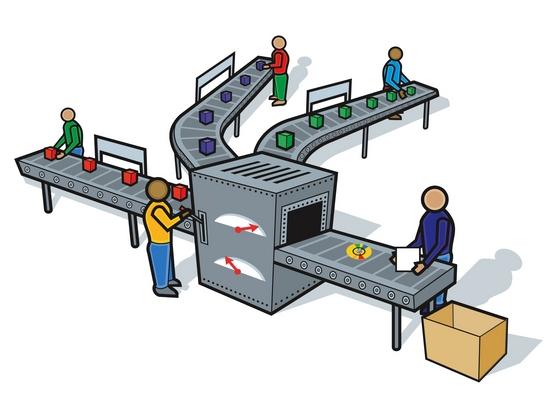 ERP Manufacturing (MRP/MES)
Increase the efficiency of the production process
✔ optimize time of the production process
✔ cut production costs on orders
✔ automatize purchases
✔ plan the production process
✔ track employee performance
✔ real-time production cost calculation
✔ parallel manufacturing processes, with semi-finished parts
✔ record on your tablet materials allocation and execution on the shopfloor

Features and advantages ERP Manufacturing System with MRP/MES

Execution planning
Assembly files with BOM and BOL for production on orders and phases, with semi-finished parts. Assembly trees, with normal consumption, labors and standardized times
Customization of the product on customer order, with the posibility of choosing alternative materials
Technical description of the products on production phases and components, with technical drawings
Automation of the production planning in time by execution phases, on sites and machines based on assembly trees
The system automatically generates internal production orders for semi-finished parts that will be needed and that are not in free stock
Automatic calculation of the weekly material purchase and consumption plan, based on production plans, and free stock
Automatic recalculation after the planning's changes
Management of free and engaged stock of raw materials, materials and semi-finished parts/li>
The system generates purchase orders according to finished product's delivery orders
Production launching
Calculation of the Consumption limit sheet and of the Execution Plan, based on planning of the production phases
Production launching and materials allocation on production phases, with semi-finished parts
Controlling material consumption based on planning, raw materials allocation and materials at job-sheet level, return, waste and so on
Print barcode label "vouchers" at production start, and data collection by scanning barcodes on daily worksheet of each worker
Overseeing of materials launched in consumption and not incorporated in products
Production execution
Record of materials allocation, consumption and production on execution sheets on touchscreen devices or tablets
Tracking all material transfers from an order to another, in order to determine the exact consumption, the exact economy and waste of materials, on each working sheet
Real time calculation of material cost, labor cost and machinery cost - according to material costs, machinery, or production line and normal labor
Automatic generation of completion note and consumption note with planned quantities
Data collection from the production, based on barcodes, worker level, execution phase, labor and order
Automatic actualisation of the Consumption limit sheet and of the Execution Plan, based on data from production
Complete traceability of the production on raw material batches, semi-finished parts and labor
Tracking the stage of the execution, on phases and the delivery, according to orders and finished products
Real-time QC recording with mobile app by barcode scanning at the execution completion, for each manufacturing phase.

Tracking execution by labor

operations

and workers: in real time (with mobile devices or on the line) or at the end of the day (on individual worksheets with barcodes)

Order execution progress calculation in real time: percentage of execution (based on standard times) and percentage of quantitative completion.

Analyze and cost calculation
Estimated cost calculation for each lot at the time of production, by components: material cost, labor cost, line and machine cost.
Automatic post-calculation for each lot at the end of the month, with the indirect cost component, based on the actual expenses recorded in the accounting.
Cost and revenue analysis reports at product level, order and customer invoice

Upstream and downstream traceability reports, for each batch of product or raw material, with batch number and date.
Identification of the workers who performed each operation for a specific product, based on the barcode of the product lot.
Comparison reports between the standard times and the times actually worked on each item, labor and worker
Activity reports for each worker for payroll, with a summary of work performed on each work order and order.