Online sales are on the rise.
Studies show that a webshop brings in sales similar to an outlet in a shopping mall, with less costs.
The online store on the expertAccounts.com Cloud ERP platform does not need hosting, maintenance and update, it is a module in expertAccounts.com and shows stock and price information in real time, taken from inventory.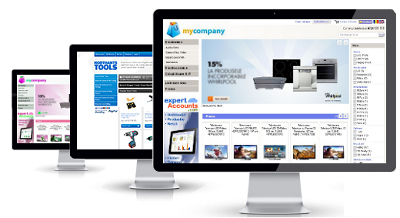 How it works?
expertAccounts.com Cloud ERP acts as a
back office
that offers:
Billing/Invoicing, collection, customer management details
Inventory stock management
Webshop orders, sales orders and purchase orders
Multiple price levels for customers with negotiated prices
Accounting, Fixed Assets and Financial analysis
General Features
Multi-language
Set-up on your own domain name
Customize with logo and colors
Multiple skins (design themes) that can be changed and customized
Banner Slide-show system
Set price levels for customers with negotiated prices
Multiple methods of delivery and payment (Cheque, Cash on delivery, Bank Card)
Customer can view orders history
Contact on Yahoo messenger when the shop administrator is online
Online contact form
Social media and newsletter plugin
Configuring SEO / Google Analytics / Reports of analysis and real-time performance
Presentation pages with menus and submenus
Configuration and update system for static content (presentation pages, side banners, plugins, etc.)
File upload / download section
Products Features
Unlimited number of categories and products
Configurable products category menu: per category / subcategory / group or category / subcategory
Real time stockinformation - your own stock and supplier stock
Display stock information in different ways
Minimum order quantity per product
Special offers (promotions, new products, recommended items, etc.)
Similar and complementary products
Multiple dynamic filters
Multiple photos per product
Product description in HTML (text and images)
Complete specs, in a table style presentation
Attached files to the product (pdf, etc)
Product search by keyword
Sort products by price, name, popularity and other properties
Recommend product (Facebook, Twitter ...)
Customer reviews for products
Configuration parameters for calculating shipping cost
Premium Features
Integration with online card payment processors
B2B integration with your suppliers to sell from supplier stock
B2B Integration with your clients to enable them to sell online your products without having them in stock
Unlimited server space