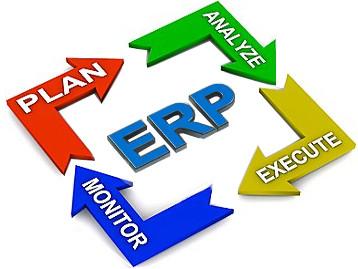 ERP Base Package (free)

Inventory
Track your inventory items stock by location, location group, item group, item description, item code, vendor, batch or serial number.

Create and print Invoices, Goods Received Notes, Cash Receipts, Cash Sales, Checks, Goods Returns, Delivery Orders and more.
Retail POS sales with barcode scanning.
Import purchases and export invoices in foreign currency.

Set preferential prices for each customer, for any of your stock items. Print personalized price lists to your clients.
Track the stock consigned to your clients. Know how much of your stock is the client holding in his premises and invoice him the goods he reports as sold.
Reports and Charts for Sales Analysis, Sales Dynamics, Aging Reports, Stock Aging and more.
Real time costing. Sales reports with cost and profit by items, invoices, customers, sales agents and vendors.
Professional accounting is generated behind the scenes when you enter documents, to offer complete accounting reports.
Accounting

Quick and easy data entry using templates for each operation type.
Payable and receivables tracked by invoice number. Automatic knock-off multiple invoices for cash or check payments.
Aging reports for unpaid invoices by cost center, partner, sales agent.
Track postdated checks by due date.

Multiple currency handling, with automatic exchange gain or loss calculation for invoice payments.
Quick and easy viewing and reviewing of all accounting transactions centralized in one General Ledger where you can filter them by accounts and document details.

View debit and corresponding credit accounts together. Examine transaction amounts and check debit and credit tallies.
Design audit reports using formulas that calculate

financial indicators

such as Net worth, COGS, EBIT, EBITDA, EPS,ROI,ROS,ROA etc.
Payroll

Complete payroll system: daily attendance sheet, medical leaves with medical certificate no, multiple payroll reports, individual payroll slip, summary payroll report

Customizable payroll calculus, with formula definition interface
Customizable payroll data export to files
Customizable payroll accounting automation

In adition to the Base Package, you can activate optional add-ons in your application acount:
Orders
Sales Orders, Purchase Orders, Quotation, Proforma invoice; Order-based invoice, Order-based DO, Order-based deposit payment, Proforma invoice
Delivery and proforma tracking
Record invoice based on Supplier DO, Customer DO and Proforma Invoice; Invoice based on DO or Proforma invoice.
Supplier Consignment
Consignment stock from the supplier, selling of consigned stock, registration of vendor invoice after the goods are sold - Consignment D.O. from supplier, sales of consigned stock, return consigned stock to supplier, sales reporting to supplier to issue invoice for the consigned goods sold.
Item master with price levels
Item master with specs and pictures and 5 price levels.; Item master with specs and pictures and 5 price levels (set by customers and by quantity)
Price rules
Set price and discount rules by customer and date range; Discount/price by client and combination of item group, brand, vendor etc. by date range. Promotion/sales catalogs by location type, customer group etc with date range validity.
Retail Chain Logistics
Shop re-order automation based on optimal stock, branch transfer control by e-confirmation, tracking of missing items during transit; Stock re-order level set by shop type. Branch transfer order and purchase order based on sales and optimal stock. Transfer to branch with e-confirmation for receipt, tracking stock in transit. Recording for each transfer the persons in charge with delivery, transport and receipt, to track and trace the items found missing after transit.
CRM - Loyalty cards
Customer loyalty card system.; Customer information management system and loyalty cards. Management of bonus points, discount points, prepaid points, all integrated with touchscreen POS system sales.
Production Assembly Files
Assembly files with BOM and BOL for production; Production tracking by phase and assembly line. Calculate material cost, labor cost and machinery cost
e-Commerce Webshop

Fully customizable e-commerce shopping cart; Company presentation website with online orders
Serial Number Tracking
Strict tracking of S/N or IMEI for items that require warranty (electronics etc.) by scanning the serial number at all stock in and out documents.; Mandatory S/N scanning at purchase, transfer, invoicing or POS sale. List of serials on stock, history by S/N. Integrated with the RMA module for warranty and out-of-warranty service repairs and returns.
RMA - Return Merchandise Authorisation
Return products for warranty and post-warranty repairs/replacement; Multi-brand warranty certificate, own warranty, send back to vendor for warranty, post-warranty service. Web interface for customers to check status.
Project Orders
Project-based services orders (construction, installation etc.). "Make-to-order" discrete manufacturing (project-based products); Service/products quotation/order with required raw materials, labor and third party services. Billing and cashing deposit payment. Process the production on order. Invoice on order.
CRM - Marketing
E -mail marketing, newsletters, telemarketing, lead management, quotations and opportunities; E-mail templates customized with parameters, communication history, relevant selling points, track leads, opportunities, quotations and special ofers.
CRM - Block Billing
Bulk billing services on contract basis: utilities (water, sewer, sanitation, gas, etc.) and subscriptions (telecom, GPS monitoring, maintenance, etc.); Manage subscribers with all relevant details, contract templates, multiple services on invoice, configurable price computing, multiple consumer branches
Project-based Orders
Project-based services orders (construction, installation etc.) - "Make-to-order" discrete manufacturing (project-based products). Service/products quotation/order with required raw materials, labor and third party services. Billing and cashing deposit payment. Process the production on order. Invoice on order.
Contract templates
Generate contracts based on templates created with full text editor. The contract generated for an order can be customized in the text editor, sent by email, signed, scanned and attached to order. Create templates for service contracts, projects, goods delivery etc. using a complete text editor in HTML format with images, tables. Insert parameters for customer info and order data, insert dynamically generated tables with items order. Generate contracts based on templates, with customer, order and CRM information inserted automatically. Scan the signed contract and attach it as file to the order, along with other files (technical project etc).
Repair Shop
Work Orders for multi-brand car service workshops. Job assigned to work box and mechanics. Service history for each vehicle.; Classification of service labors with normal time. Hourly labor rates differentiated by type of vehicle (make, model) and the types of clients (clients with fleets, warranty repairs, insurance). Vehicles database (Plate Reg.No., make, model, VIN, engine number, mileage etc). Track issue and return parts from the warehouse to technician
Shipping and Forwarding
Tracking international forwarding orders and shipping orders with complete information. Billing in local and foreign currency. Net income computed by truck, order, carrier etc. Forwarding or shipping orders specifying the carrier, driver, plate no. customer, complete information about loading and unloading. Attach files to order (BOL etc.). Automatic billing of shipping orders. Tracking billed and unbilled orders and carrier billing for forwarding orders. Net income by forwarding order and agent. Tracking the trucks as profit centers - all expenditure and revenue highlighted in detail by truck.
BI - Business Intelligence
Decision cubes, comparative sales, income and expenses flow analysis; Interactive sales analysis for a period of one year compared with the same period in another year, interactive 3D Analysis (decision cubes), budgets setting and analyze, accounts turnovers by cost / profit centers , Graphic Charts
Fixed assets
Fixed assets management with amortization schedule, location and maintenance.; Fixed assets categories, classes, centers. Flexible amortization schedule, physical location tracking, person in charge, third party custodian. Assets maintenance with cost recording and scheduled maintenance.
Barcode scanning for stock-take
Stocktaking by scanning barcodes, using the tablet or smartphone with a USB/Bluetooth barcode scanner connected, or barcode mobile devices. Stock-count by scanning the product code, batch code or serial number, and the shelf code. Multiple users can simultaneously scan barcodes of items in different areas of the stock locations to make a stock-take.


Sign-up now to view the complete list and prices of the additional modules.




The complete solution to grow your business.